Contact Dan at Vacationgay for availability, pricing & more information on any Brand g
Riverboat Cruise

(513) 541-2187

toll free
1 (866) 541-2187
9-day adventure starting in Madrid during Pride; then sail the lush Douro River Valley with its enchanting towns and celebrated wines of Portugal.
Cabin
Location
Price
Availably

Grand Suite

Upper Deck

$5,699

Wait List

Signature Suite

Middle Deck

$4,999

Wait List

Cat. A
Upper Deck
$4,499

Wait List

Cat. B
Middle Deck

$4,199

Wait List

Cat. C
Main Deck

$3,799

Wait List

All prices in U.S. dollars and are cruise/land only. All reservations are subject to Brand g's Terms and Conditions. Initial deposit is $850 per person, with final payment due March 7, 2019. Price is per person based on double occupancy. Port fees of $199 and gratuities of $175 are additional. Single Supplement for Cruise is $2500, limited to categories A, B and C.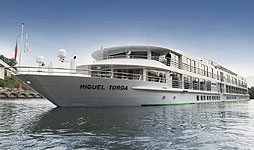 Your all-inclusive adventure begins in Indulge your passion for food, history, and music as you discover the warmth of Portugal and Spain. Experience the "sunny side" of Europe, starting in radiant Madrid, then follow the Douro River through Spain and into Portugal. Feel the warm sun on your skin as you cruise past terraced hills, quaint villages and acres of ripe vineyards. From taking in a traditional flamenco show to memorable local food and wine tastings, this all-gay Brand g cruise and tour gives you the very best of the region.
Cruise through the UNESCO-designated Douro Valley, where grapes have been grown for 2,000 years. Visit picturesque quintas and meet the winemakers who run them. In Porto, where the Douro River meets the Atlantic Ocean, explore architectural wonders, shop the bustling Rua de Santa Catarina and sip the city's storied port wines at its preeminent cellars. Travel overland through the countryside and stop in Coimbra, Portugal's third-largest city and birthplace of six of the country's kings.
Reward your inner explorer with Portugal & the Douro River, an all gay adventure that blends captivating cities, picturesque villages and unparalleled scenic cruising through this less-traveled corner of Europe.

It's the perfect combination of inspiring places and rich history in the comfort of an all-gay environment
Itinerary

Inclusions

2 nights hotel accommodation in InterContinental Madrid (or similar), with daily buffet breakfast and complimentary wireless internet.
Half-day guided city tour of Madrid including visits of the Royal Palace and the Prado Museum.
Transfer from Madrid to ship in Vega de Terron, with stop in picturesque Salamanca.
Experience multiple Unesco World Heritage sites.
6 nights deluxe cruise accommodation.
Life enriching tours and excursion.
State-of-the-art portable audio-headset system on all excursions.
Gourmet dining with all meals included during your cruise.
Complimentary free-flowing beverages onboard, including wine, beer, spirits, coffee, tea, mineral water and soft drinks.
Bottled water in every stateroom replenished daily.
Complimentary Wireless Internet in all public areas.
Welcome Dinner and Farewell Cocktail Party & Dinner.
Onboard special highlights including cultural performances, educational discussion forums, theme dinners and ship tour.
Transfer from ship to Porto airport.
Optional 2-night post cruise extension in Lisbon.

Day 1 – July 5, 2019
Madrid
Day 2 – July 6, 2019
Madrid
Day 3 – July 7, 2019
Madrid/Salamanca/Barca d'Alva, Portugal (Embarkation)
Day 4 – July 8, 2019
Barca d'Alva, Portugal
Day 5 – July 9 2019
Pinahao
Day 6 – July 10, 2019
Regua
Day 7 – July 11, 2019
Regua/Porto Antigo
Day 8 – July 12, 2017
Porto
Day 9 – July 13, 2019
Porto (Disembarkation)
Itineraries are Preliminary and Subject to Change
Contact Dan at Vacationgay.com for availability, pricing and more information
513 541-2187 | toll free 1 866 541-2187 | E-mail