Contact Dan at Vacationgay for availability, pricing & more information on any Brand g
Riverboat Cruise

(513) 541-2187

toll free
1 (866) 541-2187
10-day all-inclusive cruise through Switzerland, France, Holland and more.
Cabin
Location
Price
Availably

Suite

284 Sq Ft
Mozart Deck
$6,999

Wait List

Cat. A-1
188 Sq Ft
Mozart Deck
$5,999

Available

Cat. B-1
188 Sq Ft
Strauss Deck
$5,599

Available

Cat. B-4
188 Sq Ft
Strauss Deck

$5,399

Wait List

Cat. C-1
172 Sq Ft
Hyden Deck

$4,699

Limited

Cat. C-4
172 Sq Ft
Hyden Deck

$4,699

Wait List

All prices in U.S. dollars and are cruise/land only. Initial deposit is $850 per person, with final payment due February 16, 2020. * Price is per person based on double occupancy. Port fees of $175 and pre-paid gratuities of $160 are additional. Single Supplement is $2,500 of twin price, limited to categories A1, B1, B4, C1, C4. All reservations are subject to Brand g's Terms and Conditions.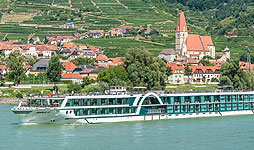 Your all-inclusive adventure begins in One of Europe's most legendary rivers awaits you on this exciting journey along the Rhine River, which begins in Switzerland and stops in France, Germany, and Holland!
Discover the many beautiful facets of the Rhine River during this week-long cruise along one of the most attractive rivers of Europe. Take a front-row seat on this enchanting journey through magnificent cities and charming villages alike. Delight in the panorama of the myth-enshrouded Rhine Valley with its vineyards, the fabled Lorelei rock, and the highest density of castles in the world! Grand cities blend in perfect harmony with their historic past and progressive future in Basel, Cologne, and Amsterdam.
On board the ms Amadeus Silver III, you will be pampered by a crew of forty in an atmosphere of total relaxation. With this great riverboat, we've created an itinerary that includes two of Europe's most popular cities, which have become prime destinations for gay and lesbian travelers.

Itinerary

Inclusions

Guaranteed all-lgbt charter.
2-night hotel stay in Switzerland's Rhineland.
Full-day tour to Lucerne, including a boat cruise.
7 nights deluxe river cruise accommodation.
Superb Dining: all meals included during your cruise.
COMPLIMENTARY FREE-FLOW SPIRITS, WINE, BEER AND NON-ALCOHOLIC BEVERAGES THROUGHOUT THE CRUISE.
Welcome Dinner & Captain's Dinner.
Services of an experienced cruise director and Brand g host throughout the cruise.
Brand g Signature Entertainment.
Arrival and departure airport transfers.

Highlights and Sightseeing

Day 1 – June 15, 2020
Bern, Switzerland
Day 2 – June 16, 2020
Bern, Switzerland
Day 3 – June 17, 2020
Basel, Switzerland
Day 4 – June 18, 2020
Strasbourg, France
Day 5 – June 19, 2020
Speyer/Mannheim, Germany
Day 6 – June 20, 2020
Rüdesheim/Koblenz, Germany
Day 7 – June 21, 2020
Cochem, Germany
Day 8 – June 22, 2016
Cologne, Germany
Day 9 – June 23, 2020
Hoorn/Amsterdam, Netherlands
Day 10 – June 24, 2020
Amsterdam, Netherlands
Itineraries are Preliminary and Subject to Change
Contact Dan at Vacationgay.com for availability, pricing and more information
513 541-2187 | toll free 1 866 541-2187 | E-mail