Contact Dan at Vacationgay for availability, pricing & more information on any Brand g
Riverboat Cruise

(513) 541-2187

toll free
1 (866) 541-2187
Cabin
Location
Price
Availably

Maharaja Suite
400 Sq Ft
Upper Deck
$9,499

Wait List

Viceroy Suite
360 Sq Ft
Upper Deck
$8,799

Wait List

Heritage Suite
280 Sq Ft


Upper Deck

$8,299

Wait List

Colonial Suite
261 Sq Ft


Upper Deck

$7,899

Available

Signature Suite
261 Sq Ft
Main Deck

$7,299

Wait List

*The fares above are per person USD, based on double occupancy. Initial deposit is $850 person, with final payment due June 3, 2019. Cruise Port Charges of $199 per person and pre-paid Gratuities of $250 per person are additional. International airfare is not included. Single Supplement is $2,500 of twin price, for Signature and Colonial Suites. All reservations are subject to Brand g's Terms and Conditions.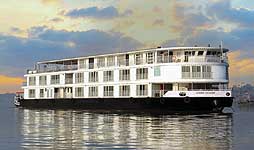 We invite you to join Brand g Vacations from September 30 through October 12, 2019 for an inclusive, all lgbt, 13-day journey, exploring the splendors of India and cruising the Lower Ganges River.
Stay in a luxurious New Delhi hotel as you explore the capital territory. Fly to exotic West Bengal for an unforgettable cruise along the lower Ganges River with powerful visits to Bandel, Kalna, Murshidabad, Chandernagore, and the stunning new temple complex at Mayapur. Back in Kolkata, the journey continues to Rajasthan and India's Golden Triangle, with astounding visits to the fabled pink city of Jaipur, the 11th century Agra Fort, and the legendary Taj Mahal.
During the river cruise, you'll return home each night to a soothing atmosphere of relaxation aboard the elegant, all-suite Ganges Voyager. Breathe in the scenery from the comfort of a top deck lounge. Explore the healing sensations of Ayurvedic or traditional European spa treatments. Gather with your new friends and discuss the meaning of enlightenment as you watch the world go by. No matter where you are on board, you'll feel a renewing energy and comforting sense of peace.
With just 28 custom-designed suites, space is limited, so contact Dan at Vacation Gay now!

Fantastic rates starting at just $6,799!
Itinerary

Inclusions

Welcome reception in New Delhi
2 nights hotel accommodation in Imperial Room at Imperial Hotel New Delhi including breakfast
One lunch and one dinner in New Delhi
7 nights deluxe cruise accommodation.
Gourmet dining with all meals included during your cruise.
Free flowing house wine and local beer with lunch and dinner during cruise.
One hour pre dinner cocktails of domestic spirits throughout the cruise.
Two nights accommodation in Palace Room at Rambagh Palace, Jaipur including breakfast.
One lunch and one dinner in Jaipur.
One night accommodation in Mughal Chambers room at ITC Mughal, Agra including breakfast.
One lunch and one dinner in Agra.
Day room accommodation in Superior room at Radisson Blu Plaza, New Delhi.

Touring Highlights

Visit the UNESCO World Heritage Sites of Humayun's Tomb and Qutab Minar.
Go inside the walls of the ancient Mughal capital of Old Delhi to see the Jama Mashid Mosque and Raj Ghat, the memorial to Mahatma Gandhi.
Board an excursion boat for a tour of the Hooghly Imambara in the port of Bandel.
Mosque of Nawab Ali-Wardi- Khan in Khushbagh and the Rani Bhabani temples in Baranagar.
Tour the Hazarduari Palace in Murshidabad and visit the Katra Mosque.
Visit the Sacred heart Church.
See Rajasthan's fabled pink city of Jaipur, Agra Fort, and the legendary Taj Mahal.

Day 1 – September 30, 2019
New Dehli
Day 2 – October 1, 2019
New Dehli
Day 3 – October 2, 2019
New Dehli/Kolkata (Embarkation)
Day 4 – October 3, 2019
Kolkata /Bandell/Kalna
Day 5 – October 4, 2019
Kalna/Matiari
Day 6 – October 5, 2019
Matiari/Khushbagh
Day 7 – October 6, 2019
Khushbagh/Baranagar/Murshidabad
Day 8 – October 7, 2019
Murshidabad/Mayapur/Chandernagore
Day 9 – October 8, 2019
Chanderagore/Kolkata
Day 10 – October 9, 2019
Kolkata/Jaipur
Day 11– October 10, 2019
Jaipur
Day 12– October 11, 2019
Jaipur/Agra
Day 13– October 12, 2019
Agra/New Delhi
Itineraries are Preliminary and Subject to Change
Contact Dan at Vacationgay.com for availability, pricing and more information
513 541-2187 | toll free 1 866 541-2187 | E-mail