Spain & Portugal Douro River Cruise


July 5-13, 2019
---
Prague & Danube River Cruise
August 11-20, 2019
---
Budapest to Bucharest Danube River Cruise
August 20-29, 2019
---
Enchanting IrelandSept 1-12, 2019
---
Splendors of India & the Ganges RiverSept 20-Oct 12, 2019
---
2019 European Christmas Markets River CruiseDec 2-10, 2019
---
Antarctica Luxury Expedition GroupFeb 9-16, 2020
---
Amazon Cruise and Machu Picchu DiscoveryApril 5-17, 2020
---
Amazon Cruise and Machu Picchu ExpeditionApril 19-May 1, 2020
---
Amsterdam and Castles of the Rhine

June 15-24, 2020
---
Prague & Danube River CruiseAug 14-23, 2020
Contact Dan at Vacationgay for availability, pricing & more information on any Brand g
Riverboat Cruise

(513) 541-2187

toll free
1 (866) 541-2187
Deluxe 7-night Lower Danube riverboat cruise featuring Budapest, the "Iron Gates" and 2 post-cruise nights in Bucharest.
Cabin
Location
Price
Availably

Suite

284 Sq Ft
Mozart Deck
$5,699

Wait List

Cat. A-1
188 Sq Ft
Mozart Deck
$4,699

Wait List

Cat. B-1

188

Sq Ft
Strauss Deck
$4,399

Wait List

Cat. B-4

188

Sq Ft
Strauss Deck

$4,199

Sold Out

Cat. C-1
172 Sq Ft
Hyden Deck

$3,799

Wait List

Cat. C-4
172 Sq Ft
Hyden Deck

$3,499

Wait List

All prices in U.S. dollars and are cruise/land only. Initial deposit is $850 per person, with final payment due April 13, 2019. * Price is per person based on double occupancy. Port fees of $175 and pre-paid gratuities of $160 are additional. Single Supplement for Cruise is $2,500 in categories A1, B1, B4, C1, C4. All reservations are subject to Brand g's Terms and Conditions.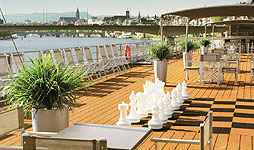 Your all-inclusive adventure begins in Brand g Vacations proud to offer a unique river cruise experience unlike any you'll find on the rivers of Europe today. With this all-gay cruise charter of the brand new Amadeus Queen, you will be pampered by a crew of forty in an atmosphere of total relaxation. With this great riverboat, we've created an itinerary that includes five countries (Hungary, Croatia, Bulgaria, Serbia and Romania) that for decades were hidden behind the Iron Curtain.
Explore the undiscovered beauty of Eastern Europe as we sail from Budapest through the "Iron Gates", the imposing gorge where the Danube breaks through the Carpathian Mountains, all the way to the Black Sea. Experience the Danube Delta with its amazing wildlife and breathtaking scenery before concluding your trip with a stay in Bucharest, the legendary Romanian capital full of history and tradition.
Want more Europe? Combine the Lower Danube Cruise with the Classic Danube Cruise(Passau to Budapest) for an unforgettable 18-day European vacation!

Itinerary

Inclusions

Guaranteed all-lgbt charter
7 Nights Cruise Accommodation
COMPLIMENTARY FREE-FLOW SPIRITS, WINE, BEER AND NON-ALCOHOLIC BEVERAGES THROUGHOUT THE CRUISE
Superb Dining: all meals included during your cruise
Services of an experienced cruise director throughout the cruise
Complimentary shore excursions offered daily
Use of state-of-the-art audio headsets for all excursions
Brand g entertainment featuring ….
Complimentary use of onboard bicycles
Two nights in historic Bucharest
Airport transfers in Budapest and Bucharest

Day 1 – August 20, 2019
Budapest, Hungary
Day 2 – August 21, 2019
Budapest
Day 3 – August 22, 2019
Mohacs/Vukovar
Day 4 – August 23, 2019
Belgrade, Serbia
Day 5 – August 24, 2019
Iron Gates
Day 6 – August 25, 2019
Svistov, Bulgaria
Day 7 – August 26, 2019
Danube Delta/St. George Village
Day 8 – August 27, 2019
Harsova/Bucharest, Romania
Day 9 – August 28, 2019
Bucharest, Romania
Day 10 – August 29, 2019
Bucharest, Romania
Itineraries are Preliminary and Subject to Change
Contact Dan at Vacationgay.com for availability, pricing and more information
513 541-2187 | toll free 1 866 541-2187 | E-mail